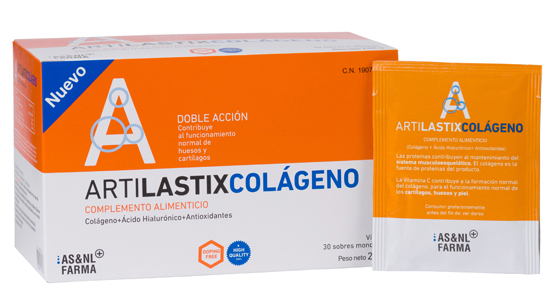 DOBLE ACCIÓN
Contribuye al funcionamiento normal de huesos y cartílagos. Primer preparado que combina colágeno hidrolizado con ácido maslínico e hidroxitirosol.
Ingredientes: Colágeno hidrolizado, Ácido hialurónico, Vitamina C, Ácido maslínico, Hidroxitirosol.
Presentación: 30 sobres de 8 g.
Peso neto: 240 g.
Cantidad diaria recomendada: 1 sobre al día.
Modo de empleo: Disolver el contenido de un sobre en un vaso de agua y agitar.
Advertencias: Los complementos alimenticios no deben utilizarse como sustitutos de una dieta variada y equilibrada, se recomienda seguir un estilo de vida saludable. No superar la dosis recomendada. Mantener fuera del alcance de los niños.
Bibliografía:
-Sánchez Quesada, C; López-Biedma, A; Warleta, F; Campos, M; Beltran, G; Gaforio, J; Bioactive properties of yhe main triterpenes found in olives, virgin olive oil, and leaves of Olea europea; Juournal of Agricultural and Food Chemistry (2013), 61(50), 12173-12182.
-S. Fukumitsu et al.; Anti-inflammatory and anti-arthritic effects of pentacyclic triterpenoids maslinic acid through NF-B inactivation; Mol. Nutr.& Food Res. 2016, 60, 399-409.
-Yi-Chih Hung et al.; Asiatic acid and maslinic acid protected heart via anti-glycative and anti.coagulatory activities in diabetic mice; Food Funct., 2015,6, 2967-2974.
-Huang, L.; Qian, Y., Guan, T.; Huang, M.; Li, L.; Drugs targeting glutamete transporters for prevention and treatment of cerebrial ischemia; Zhongguo Xinyao Zazhi (2012), 21 (4), 390-395.
-Rufino-Palomares, E.; Reyes-Zurita, F J.; García-Salguero, L.; Mokhtari, K.; Medina, P.; Lupianez, José A.; Peragon, J.; Maslinic acid, a triterpenic anti-tumoral agent, interferes with cytoeskeleton protein expression in HT29 human colon-cancer cells; Journal of Proteomics (2013), 83, 15-25.
-Lin, Xiukun; Liu, Haizhou; Liao, Dezhong; Anti-ovarian cancer effect of maslinic acid and the preparation thereof; Faming ZhuanliShenqing (2011), CN 102225068 A 20111026.
-Girones Codina, E; Grau Monjo, E; Agent for increasing the density of the skin; Spain. (2013), ES 2395395 A1 20130212.
-S. Fukumitsu et al.; Maslinic acid in olive fruit alleviates mild knee joint pain and improves quality of life by promoting weight loss in the elderly; Journal of Clinical Biochemistry and Nutrition; September 2016.
-Lockyer Stacey et al.; Secoiridoids delivered as olive leaf extract induce acute improvements in human vascular function and reduction of an inflammatory cytokine: a randomized, doublé-blind, placebo-controlled, cross-over trial; From The British Journal of Nutrition (2015), 114 (1), 75-83.
-Double-blind placebo-controlled trial of hydroxytyrosol of Olea europea on pain in goanrthrosis.
-Takeda Ryuji et al.; Double blind placebo-controlled trial of hydroxytyrosol of Olea europaea on pain in gonarthrosis; Phytomedicine: international journal of phytotherapy and phytopharmacology (2013), 20 (10), 861-4.
-Huang, Paul L.; Huang, Philip L.; Lee-Huang, Sylvia. Oleuropein and related compounds reduce arterosclerosis. Open Conference Proceedings Journal (2010), 1, 81-86.
-Block Martin et al.; Olive (Olea europaea L.) leaf polyphenols improve insulin sensitivity in middle-aged overweight men: a randomized, placebo-controlled, crossover trial; From PloS one (2013), 8(3).
TEL. 93 822 51 16
TEL. 91 793 88 44